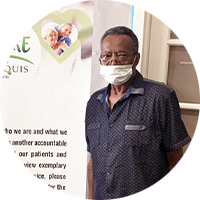 "Everybody here tried to do the best they could. I spent a lot of time in the gym and that is why I was able to accomplish what I planned to. My therapist Kathy was great in getting me to walk again with my prosthetic leg. I did my home assessment a few days ago and I walked up my stairs at home. The Rehab Dept. was beautiful in getting me walking again. The nurses were sweet and kind, especially Rosemary. I plan on returning to Meadow Park next month to visit. I really enjoyed my stay and I'm ready to go home now."
– Charles Gorham
---
"Great news coming from Meadow Park! I'm happy to say that my stay was a great stay as ill as I was. The staff was kind, helpful and considerate. I have never seen a nursing facility as well organized and clean with a considerate staff who seem to care about people. This was my first time in this facility and it was clean and inviting. The staff members are dedicated and extremely hard workers, busy at all times and they are a conscientious group. You would never find food that is so delicious and fresh, not leftovers that they serve. You would think you were at a star restaurant. Three meals a day on time has trained my eat habits to eat at a certain time. The kitchen gets 4 stars – they are on the money. The therapy department wasted no time getting me ready every day to tackle my routine. The entire stay was well organized and well planned. They checked on me all the time and walked with me and was just concerned about my well being."
– Climmie Cornish
---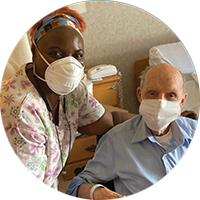 I Will Really Miss Everyone!
"I had a great stay at Meadow Park. I was treated well by all the staff on my floor and Rehab was awesome at getting me stronger. Food was okay at times, but when I did like the choices it was very fulfilling for me. I really will miss everyone! If I need to come back to Maryland and need rehab again, I will definitely come back to stay at Meadow Park – everyone was great!!!"
– Salvatore Peraro
---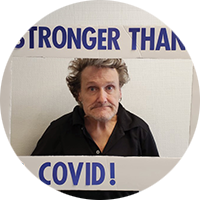 I Could Not Have Asked For More!
"I was recently at Meadow Park and I can honestly say that my stay was great!! Even though I had a long stay, everyone was so nice to me. I received great care and rehab while I was here and couldn't ask for anything more during such a difficult time. Thanks to all the staff for getting me back home."
– David Wilhelm
---
I Enjoyed My Time Here
I have to say I had a great stay at Meadow Park. I had great rehab therapists like Kathy and a few others, which I needed to get me back on my feet and back home, and everyone was so nice. The food was even good most of the time. I enjoyed my time here and I had an awesome roommate during my final days here. She was a pleasure to have and I couldn't have asked for a better person to share a room with. Thanks to all that helped me get better!
– Lois DiRito
---
I just want to thank you for taking such great care of my husband while he was here at Meadow Park. He has been to other facilities, but this one was nothing like them. The rehab staff was excellent! All of the therapists were great with him. I wish I could take them home with me to work on both of us.
I just can't say enough about how great everything was during his stay."
– Marie Visosky
WIFE OF THOMAS VISOSKY
---
"Everything was just great here at Meadow Park!
The food was outstanding I got a lot of things I enjoy like ice cream and lots of desserts. The Therapy Department got me walking again, especially Kathy, Colleen, Molly and the Speech Therapist Radika was great was well. They all got me stronger than I was before and I can say the entire department was great. The group therapy was great to attend! I got to see other people work out and the therapist put a lot into the group and the people all wanted to work out. Marcella in Housekeeping was very nice and helpful all the time. I was always checked on and got my ice water by everybody. Dawn the PA was very good and nice to me as well when she came by to visit me."
– William Bertoni
---
"Rehab really did a good job getting me back to where I was before all of this happened. Kathy, Radika, and Radia were just great. Everyone in PT/OT and Speech Therapy were good. I had a great time as well in Activities. I had attended quite a few activities including painting which was different and fun. This was the first time for me in a facility and it was a rough couple of days adjusting to it, but on the second day I realized I needed to be here to gain my strength to return home.
The staff helped me along the way especially CNAs Daryl and Marcia. They took very good care of me while I was here."
– Norenzer White
---
"This is my second time here at Meadow Park and the Rehab Department was great again!!
Rehab was just excellent this time around and I really enjoyed working with them again. The therapists made me feel like I was home with family, and they were even better than the last time. Molly, Monica and Kathy was great at getting me stronger again this time around. The renovated room I stayed in was really nice as well. I cannot say enough about the top quality service I received by therapy at Meadow Park."
– Doris Jefferson
---
"I had a great stay at Meadow Park! I was never bored. I attended many activities including crossword games, The Price Is Right, and a bunch of different movies. All of the nurses were eager to help and caring. The staff was attentive and listened to my needs and concerns. My room was always cleaned and the meals had hearty portions. This is a great rehab facility with great physical therapists.
I'd recommend Meadow Park to anyone who needs rehab services!"
– Frank Zanto
---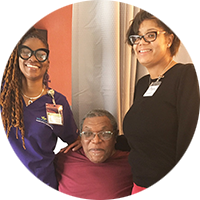 "Rehab was outstanding, especially Colleen, Amy, Monica, and the rest of the therapists. All of the nurses in my wing, especially Rosemary and Katrice, were always nice and had a great sense of humor. The GNA Lewis always had me well- taken care of. Marcella in housekeeping always had a positive disposition and I could always talk to her. I loved playing cards and going to different activities with other residents.
Overall, the staff was very welcoming and made my stay here very comfortable."
– Hiram Parks
---
"Overall, for my first time in a facility for rehab I had a good stay. I had toured before my surgery and I'm happy that I came to get the therapy I needed before I returned home. The therapists were superb, especially Kathy and Colleen. Meadow Park is such a clean facility and very well maintained. I had a newly renovated private room which was nice. There was always someone cleaning in my room, which was great to see. GNA Carla was always willing to help with everything, even putting my clothes away.
If I need to come back after my second surgery I will definitely consider returning to Meadow."
– Alice Harris
---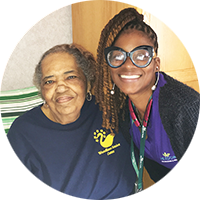 "I was here under the old ownership and this time I really got attached to many of the staff at Meadow Park and it made my stay even better. In Nursing, a few outstanding staff members were: Katrice who is so professional and does her work accurately and gives out meds on time. She also has great bedside manner. Dena was also very professional, pleasant, cooperative and always there to help me. Rosemary and Chandra were always professional. Leah the GNA was very cooperative and willing to answer questions. They really did a great job taking care of me while I was here. The Rehab Department was excellent this time around! Radia, Colleen, Monica and Kathy were all #1 with the therapy they gave me. It was also nice to get my hair done while I was here.
Overall, everyone was good at their job and I had a great experience again because of all of them."
– Carol Mills
---
"I would definitely recommend people to Meadow Park as the place to go if they need rehab.
Staff here is doing a fantastic job. They are dealing with a lot every day. Different personalities, backgrounds and they handle it very well. Therapy was A-OK! The therapist sat and talked with me during treatment and that is something you can't find anywhere else. Everyone was so friendly and made going to therapy enjoyable. I really had a great time at Meadow Park. I can honestly say it was a great experience for me!"
– Josephine Thorne
---
"The care was great during my stay at Meadow Park.
The staff was really good, especially Ebony. Activities were great and I attended one of the church services. The Rehab staff was very professional and courteous. Overall, it is a very nice and clean facility. Kudos to all the sta at Meadow Park!"
– Gregory Rouse
---
"This is my 3rd time at Meadow Park and this time around is the best I've felt and the strongest I've felt in a long time.
My blood pressure is more controlled and my breathing is much better. I'm now walking 200 ft. and came in not walking or even having the strength to stand. The Rehab Dept. is so encouraging and they allowed me to try things on my own to help me succeed. The environment of the gym is so upbeat and happy, residents are friendly and it's such a pleasure to go there every day. Kathy, one of my therapists, has shown me so much to help me be more independent. The entire Therapy Team has been so welcoming and more like a little family to me. The Nurses and GNAs were all great and on time when I needed assistance. The food is also a 100% better this time around and the presentation was great. My stay was fabulous and if I ever need to return, I would deinitely come back again to Meadow Park."
– Lorraine Caines
---
"I would like to start with the Therapy Dept. which was wonderful. The people do a great job, especially PT/OT Emily, Helen, Sophie and Kathy. The nurses I had were very nice too me, especially Rosemary. The 311 shift were sweet too me as well. They always listened when I needed to talk to someone. The GNA's, Jacque, Leah and Nicole, were great at taking care of me and very nice and good too me during my stay.
It all made for a better stay and I was very pleased with my experience at Meadow Park."
– Mary Britt
---
"I can honestly say my stay was a very pleasant one. The staff was wonderful and I had no problems with anyone. They were all friendly and always made sure I was taken care of. I had the best roommates – they were all very kind and polite. The entire Therapy staff was all wonderful at getting me stronger so I could go home. I enjoyed the activities here and the hairdresser did a beautiful job cutting my hair. Meadow Park is a very beautiful building and if I had to return I would definitely come back."
– Beverly Brown
---
"It was so nice of Meadow Park to allow my wife to stay with me. I am very thankful that they made this happen for us. The facility is very clean and bright and a nice place altogether. Staff timing on the call bell was good and the Therapy Dept. did a fantastic job, especially Kathy. The food was pretty good as well. Overall, my wife and I had a great stay and appreciate everything Meadow Park did to make our stay a great one!!"
– Charles Fritts
---
"In the beginning, I had to adjust to not being able to do much for myself like I normally do. But overall, I can say that Meadow Park does have some great people that care and are good at what they do.
Nursing really helped me and was always there for me, especially Rosemary RN, Nicole GNA, and Louis GNA. They did a great job with my care and were so nice to me. The entire Therapy Dept. was beautiful and nice all the time. They would always speak and recognize me when I came in for therapy and are great at what they do. Food was OK for me, I'm not a big eater, but it was good when I did eat my meals. Activities had a great church service that I attended while I was here. Some others that were great were Koko DON, Mrs. Carter, and Ebony who was always nice when she stopped by. But I'm really going to miss my roommate. She was such a pleasure to have during my stay here at Meadow Park."
– Charlotte Keve
---
"I am just calling to say thank you for having a place available for my wife when she needed one. I was very pleased with Meadow Park and all the staff on the 2nd floor for everything they did for her during her time at Meadow Park. I also want to really thank you Ebony for all your help in making her stay even better. Again, thank you for everything and I'm glad I chose your facility for my wife."
– Henry Bergen
Husband of Elner Bergen
---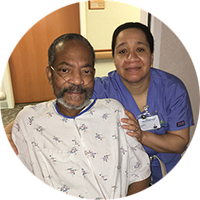 I am very happy that the Case Manager at St. Agnes Hospital suggested Meadow Park for Rehab and I'm very glad that I chose to come. My GNA Amy is wonderful all of the time. She gave me good care and when I pressed the call bell she was always right there to help me. My RN Linda on the overnight shift was always attentive to my needs as well, especially with my wound vac. She was always available to fix my problems immediately. I had a great experience at Meadow Park overall."
– Excell Hickerson
---
"Everything was just wonderful here
at Meadow Park!!The Nurses and GNA's were great but I can't wait to get home!! Therapy was on point and a fun place to go to every day. Everyone in the Therapy Dept was so nice and pleasant all the time. They all spoke to you and made it such a fun time during therapy. There's too many names to mention but they all did a fantastic job. They really got me going and ready to get back home. I am truly happy my daughters transferred me over to Meadow Park for rehab."
– Laverne Thomas
---
"The Rehab team was great! My OT Monica Lewis is just beautiful! She went out of her way to help me by taking time out to go to the store to pick up something for me that would help me be more independent even with my restrictions. I am truly so thankful for her being so kind to me, I truly appreciated it so much. My PT Kirk Holmes is a wizard and was so helpful as well. I also enjoyed the activities which were a great addition to my stay. I enjoyed my stay at Meadow Park."
– Lorraine White
---
"Even though I only came to Meadow Park to complete my IV Antibiotic, because I was unable to manage it on my own at home, I was very pleased with my stay and the staff. All of the nurses were helpful especially Rosemary, Lola, Pauline Elizabeth and Shanti on the overnight shift. The Rehab Department was also very helpful to me during my stay. For my first time in a Rehab Facility my overall experience at Meadow Park was a great one!"
– John Foreman
---
"For the most part, the staff has been wonderful. The building is always clean and there is no foul smell anywhere. Breakfast is always good and they have an alternate menu with other items always available. The PT and OT staff work you hard, but I have had good results. Monica, Kirk, Romona and Coleen have been instrumental getting me to the point where I can function at home with minimal assistance. When I first came here, I could not even pull myself up in bed without help. After 3 weeks I now go to the restroom without assistance, and walk without assistance but use my rollator and wheelchair, just to give confidence and support. Kudos to Ms. Angela Carter (Nursing Supervisor), Ebony Jones-Bazemore (Administrations Director), Nicole, Nyree, Leah Whittman and Rob. All GNAS have been courteous and very helpful. My Nurse Rosemary gets things done and is very respectful. She never acts as if I am bothering her. Kameree, (Social Service Rep), has been wonderful and available whenever I need her. I am glad I chose Meadow Park and will recommend to friends and family."
– John Foreman
---
"Everyone was great on the 2nd floor! I was so glad I was able to move into a private room – everyone was so sweet and nice. My GNA Sabita is just a sweetheart and was so sweet and kind to me. She was my sunshine, she made my day and stay so much better. I told her she needs to go home with me when I leave Meadow Park. I was also happy I was able to get my hair done while I was here, that made me feel even better! It was just a great stay and I truly feel a lot better!"
– Betty Whidby
---
"I was very impressed with the cleanliness of your facility AND very impressed with how friendly everyone was. Everyone I passed in the hall made a point of saying hello. The Head Nurse Mrs. Carter was very helpful and very compassionate. Colleen in PT was terrific and Catherine worked very well with Cathy-PT. Lisa in the Business Office provided me with some good info and advice. All in all, everyone I have made contact with has gone out of their way to be helpful during my sister-in-law's stay at Meadow Park."
– Kathy Malone
Sister-In-Law of Catherine Malone
---
"Meadow Park is a great place to be, it was a second home to me! The Nursing staff was caring and kind and followed each task professionally. They were always checking in on me and I would rate them 90% or better with care.
The Rehab Department was excellent as well. Scheduling was great for both PT and OT and having a different person for each therapy allowed for more hands-on and interaction with the patients.
Kathy in PT made sure you got the max out of your workout and Monica got me mentally ready every time. Helen in OT was excellent as well, pushing me to get back to my natural way of being and going beyond the call of duty. Truly a team effort by all.
I would definitely recommend someone to Meadow Park and I want to thank everyone for a great stay!!"
– Idelia Green
---
"I truly was happy that my wife had the freedom to visit me at Meadow Park when she wanted too. The staff always made her feel welcome when she came to visit. The Rehab Therapists were great – everybody was kind and encouraging especially Millie and Colleen. My time at Meadow Park was a positive one for me and my wife, and I'm very grateful that I came to get the care I needed so I could return home with my wife. I feel so much better!!"
– Friedrich Gehne
---
"It's been a wonderful experience! I'm so glad my family brought me here to get better. Everyone was just wonderful especially my buddy GNA Amy. Therapy has been great!! I loved the live band that came to the building last week. The Beauty Salon was a plus and getting my hair done made my stay even better. The food was wonderful and tasted good.
I'm so glad I came to Meadow Park."
– Ofreda Ray
Urgent SNF Patient
---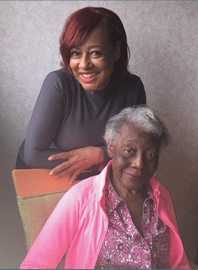 "MEADOW PARK HAS PROVEN TO BE A GREAT CHOICE."
Since my mother's admission to Meadow Park she has shown significant progress based on the services provided. Timely medication administration, physical therapy, meals, recreational activities, redirection and assistance with ADL. The facility is clean, the staff is supportive, and safety measures are in place as well. I'd like to add the social activities offer stimulation as well as socialization. The beauty salon and laundry services are also a plus!
– Janice Moses
Daughter of Lucy Moses
---